Grab Bar Shower Heads
Even the smartest home handyman can have problems when they try to install a shower head. Save yourself time, money and sanity and call Environmental Plumbing.
Below is a selection of handheld shower heads, many other styles available upon request.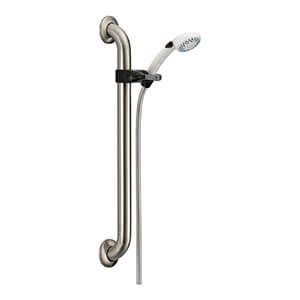 Delta
Grab Bar 2-Function Hand Shower
Quality designed and manufactured single function hand shower.
2.50 gpm @ 80 psi, 9.5 L/min @ 550 kPa
Grab bar supports up to 300 lbs (136 kg)
ADA Compliant
Made by Delta
$525 (Supplied & Installed)
* Taxes not included. All prices are subject to change without notice.