Outdoor Faucets
5 Year Warranty
We'll replace at no charge should it freeze and burst.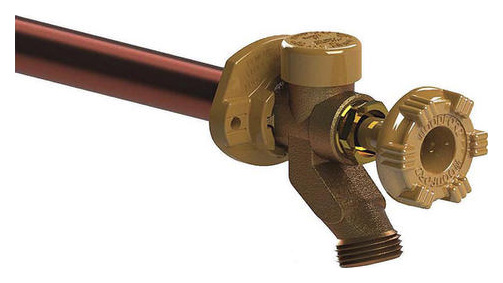 Woodford
Model 19 Outdoor Faucet
Won't burst in the worst weather.
5 Year Warranty
Made in USA
$400 (Supplied & Installed)
* Replacement of existing faucet. Additional charge of $75 for inside valve.
* Taxes not included. Conditions apply. All prices are subject to change without notice.
Springtime Tip
After turning on your outdoor faucet and letting it run for a short time, go to the basement where the faucet comes through and check for leakage. The faucet may have burst in the winter but will not leak until the tap is turned on outside.
Why Outdoor Faucets Leak?
When water isn't drained completely from the outdoor faucet (see instructions) and the temperature drops below zero, the water freezes and expands which can cause the faucet to rupture and leak when when used in the spring. The Woodford Model 19 faucet is designed to not burst even when containing water.
Preventing Outdoor Faucets From Freezing
Replacing outdoor faucets can be costly, draining the water is easy.
In the fall
Follow these steps to drain the water before it freezes:
Close the inside valve.
Open the outdoor faucet and leave it open.
Remove the garden hose.
Open bleeder on the inside valve and leave it open.
In the spring
Follow these steps to restore the outside faucet:
Close the outside faucet.
Close the bleeder on the inside valve.
Open the inside valve.